Hangout
Gulf Shores, AL
May 20-22, 2016
Alternative / Electronic / Rock
The Hangout Music Festival is a beach-front fiesta with rock, alternative and all the seaside festivites on the Alabama coast. Rent your beach-side condo and head on down to Gulf Shores for a summertime kickoff party like no other.
Hangout Has Passed
See Festival Photos, Videos and More Below.
Advertisement
---
---
The Hangout Music Festival is an annual 3-day music festival held at the public beaches of Gulf Shores, Alabama. It was founded by A.J. Niland and Shaul Zislin in 2010, and is produced by Huka Entertainment. The event features many genres of music, including rock, indie, hip hop, and electronic dance music.
The two main stages are located on opposite ends of the beach, with other stages and things to do in between. The festival generally takes place on the third weekend in May. Notable acts that have performed at Hangout Fest include The Avett Brothers, Foo Fighters, Paul Simon, Widespread Panic, Jack White, Red Hot Chili Peppers, Dave Matthews Band, Kings of Leon, Tom Petty & The Heartbreakers, Stevie Wonder, OutKast, The Killers and The Black Keys. Acts such as the Trey Anastasio Band, The Flaming Lips, Moon Taxi and Bassnectar have performed several times at the festival.
Hangout Music Festival was founded in November 2009 by A.J. Niland and Shaul Zislin. The duo had spent several years scouting locations for a festival location, until setting on the public beaches of Gulf Shores.
Zislin is the proprietor of The Hangout, the festival's namesake restaurant located at the terminus of Alabama State Route 59 (opened in 2008), as well as several other businesses along the beach.The festival received approval from the Gulf Shores city council in December 2009 and the rest is history.
2015 Hangout Lineup: Foo Fighters, Zac Brown Band, Beck, Skrillex, My Morning Jacket, Foster The People, Paramore, Spoon, Umphrey's McGee, Major Lazer, TV On The Radio, Phantogram and more...
Hangout News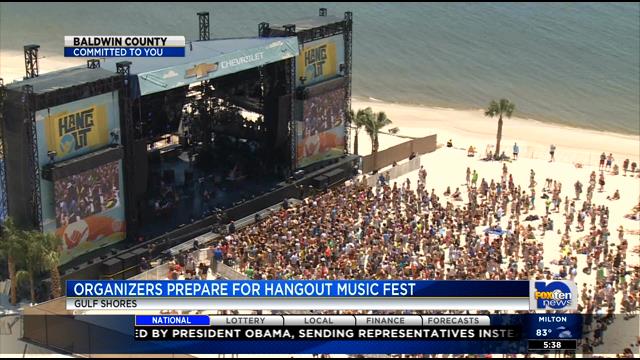 The Hangout Music Fest announced some of the acts for next year's festival today. The festival will kickoff on Friday, May 20, 2016. The Weeknd, Ellie Goulding, Lenny Kravitz, Read More...
If you're a music lover living in the South, you need to get out your calendar right now. The Gulf Shores Hangout Music Festival has just revealed its 2015 lineup, and it's huge. Read More...